CFR RallyCross 2023 - NIGHT Points Event #9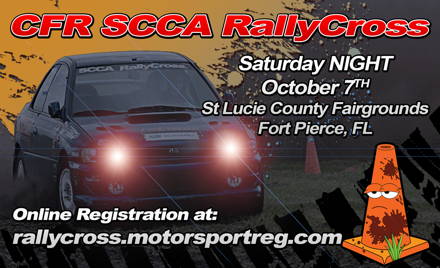 SCCA - Central Florida Region - Rally Cross
Saturday, October 7, 2023
Saint Lucie County Fairgrounds
,
Ft Pierce

,

FL
Central Florida SCCA RallyCross returns to Saint Lucie County Fairgrounds - our biggest, longest, bestest RallyCross playground - for the last night race of the season!
RallyCross is the most widespread and readily accessible form of extreme dirt motorsport in the Sports Car Club of America, and the perfect place to see if you have what it takes to powerslide your way to victory.
Remember: Night Events have a few different requirements than Day events:
Check-in is at 2PM, the event will run through about 9PM
Anyone working on course MUST wear light clothing that is easily visible at night - reflective vests are highly recommended.
Flashlights, Reflective Vests and Glow Sticks will be provided
After dark, when in Pit or Grid, your headlights and light bars must remain OFF so that you do not blind the drivers on course.
We have partnered with the Fort Pierce Holiday Inn Express for a group rate offered specifically to CFR SCCA RallyCross Attendees:
Make your reservation today at (772)464-5000, for your special rate refer to:
Central FL SCCA Rally Cross or booking code: Central Florida SCCA
Or Make your Reservation Online!
Event Schedule - ALL TIMES ARE PM
1:00 p.m. Gates Open
2:00 - 2:30 - Registration Tent open for Check-In
2:30 - 3:00 - Vehicle Tech Inspection
3:00 - Driver's Meeting, Event Awards and Novice Walk
3:15 - 5:30 - Afternoon Heats
5:45 - 7:15 - Dinner
7:30 - Evening Driver's Meeting
8:00 - 9:30 - Night Heats
9:30 - Wrap-up meeting
10:00 p.m. - Gates Close
Schedule is subject to change due to weather or other factors beyond our control. Please listen for announcements.